Invitation for the press: Day of Multilingualism- Betalky @Work. About multilingualism in Brussels companies
On Saturday 24 September 2022, Minister Sven Gatz, responsible for the promotion of multilingualism in the Brussels Capital Region, is organizing the third Brussels Day of Multilingualism. This year's theme is multilingualism at work. ​
The day will take place at the Brussels Parliament starting at 10.30 am. This year's host is Valerie Thys.
The impact of multilingualism on the Brussels business world can hardly be underestimated and therefore deserves our full attention. Multilingualism is not only an extra asset for companies, it is of vital importance for the success of their economic activities.
Research shows that it is mainly the combination of Dutch, French and English that is used within the Brussels business community. The most frequently used languages are French and Dutch. Moreover, the use of both languages is complementary, not mutually exclusive. Three quarters of the Brussels companies use at least both languages for internal communication. Nine out of ten companies do so for communication with the outside world. This does not mean that we should underestimate the importance of English as a language of international communication: more than 80% of companies use it for external communication. English thus plays an important role for Brussels companies, but only in combination with French and Dutch.
In search of multilinguals
Multilingualism is very important in order to find a job. According to Actiris figures, 49.5% of companies ask for knowledge of languages in their vacancies: 55.9% of them French and Dutch; 25.6% French, Dutch and English; and 14% only English. Looking at the language knowledge of the job seekers, 78% have no knowledge of the second national language; 7% have a good knowledge of the second national language; 16% have neither Dutch nor French; 37% have average knowledge of English; 75% speak a language other than French and Dutch.
CEO of Google as keynote speaker
The program of BeTalky@work will be interesting, with the presentation of a study on multilingualism in companies in the Brussels Metropolitan Region, a debate with academics, interest groups and company managers; we will take a closer look at the role of language teachers and language advisors in companies and the results of the BeTalky@work project call will be announced. For those who want to test their knowledge on multilingualism, we will organize a quiz.
The keynote speaker is no other than Thierry Geerts, CEO of Google Belgium, who will talk about multilingualism in the digital world. The final word is for Minister Sven Gatz.
You can find the full program in annex.
We hereby invite you to participate in this fascinating day. ​ To do so, please register at ​ [email protected]
We look forward to seeing you!
More information at: betalky.brussels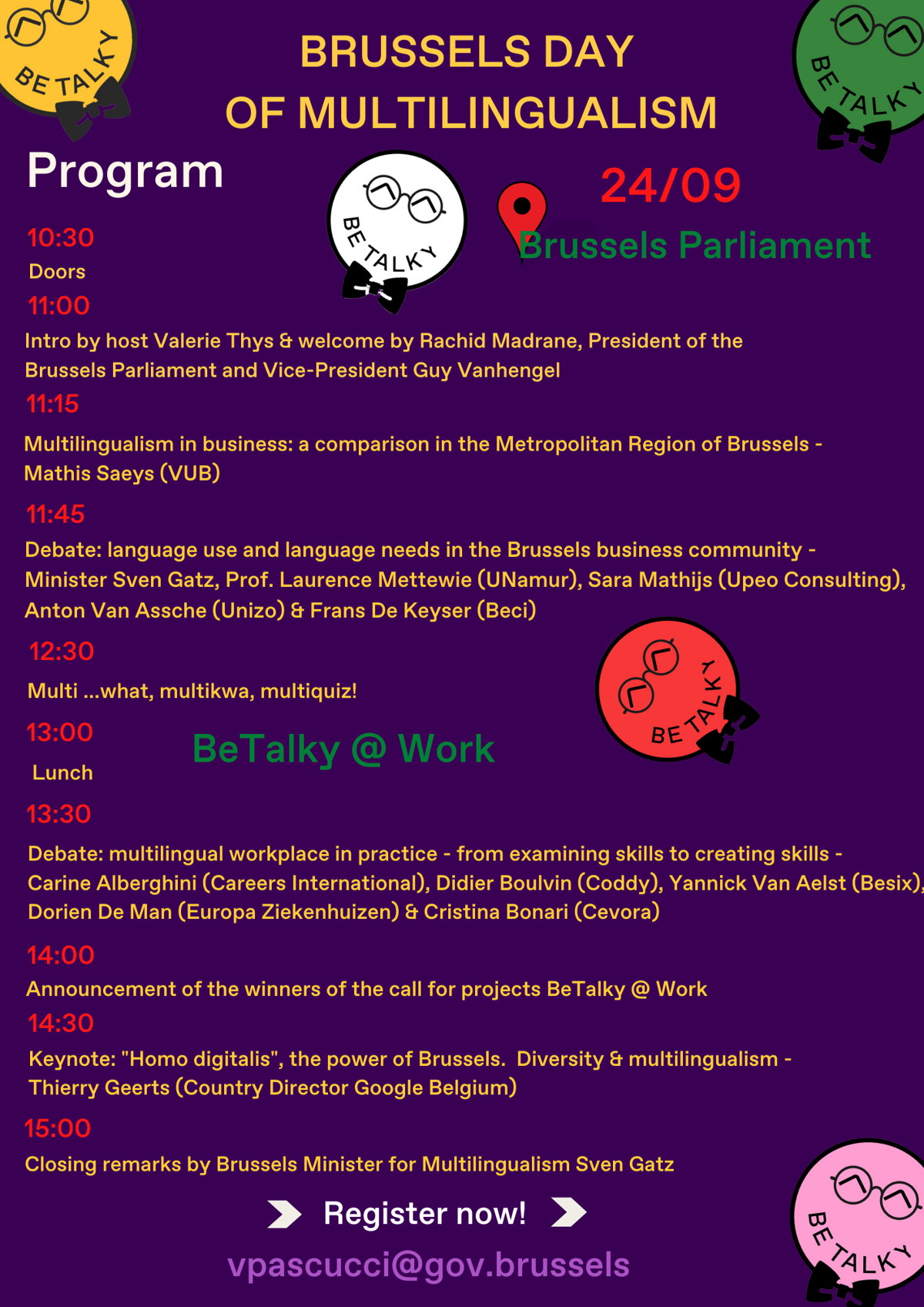 Eva Vanhengel Woordvoerder / porte-parole, Kabinet van Minister Sven Gatz