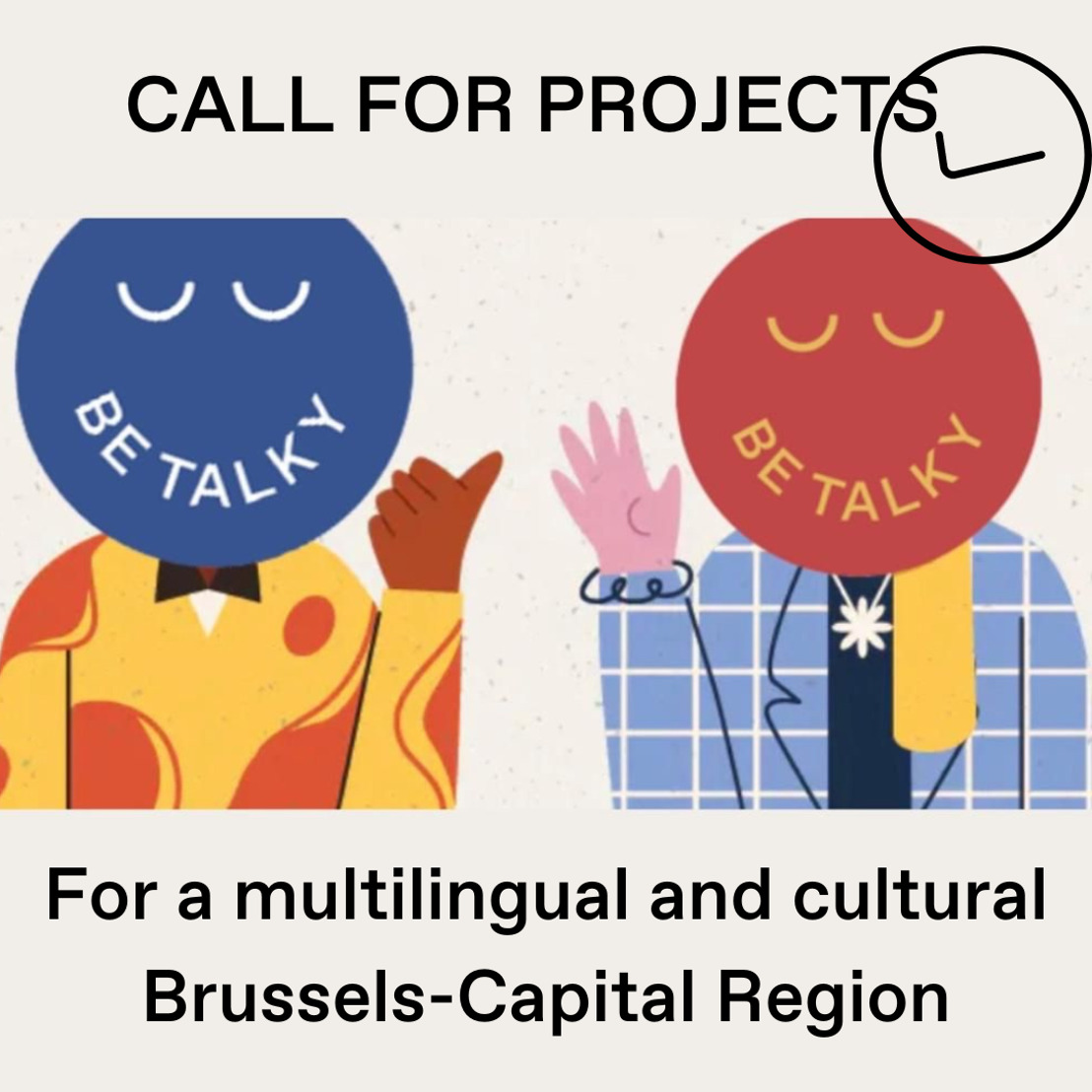 12 cultural projects receive support through BeTalky.brussels 
Prompted by Minister Sven Gatz, responsible for the Promotion of Multilingualism, the Brussels government has approved 12 projects under the BeTalky.brussels 2023 CULTURE project call. The project call was a success: no fewer than 134 projects were submitted, of which 126 were declared admissible: 12 of them are eligible for a grant, the Brussels government decided.
The project call was launched on 20 March 2023. This is the third project call this legislature. Previously, multilingualism was promoted in education and business through a project call.
This time, the Betalky.brussels project call was aimed at organisations that respond to concrete needs in this context via a cultural project and that can realise effective social added value within their domain. The winning projects are all aimed at promoting and strengthening multilingualism in culture. The call for projects included all possible artistic and cultural forms and expressions (theatre, concert, expo, etc.). This is reflected in the winning projects.
Minister Gatz points out that the large number of entries shows how extensive the cultural offer is in the region supported by a solid network:
"The cultural sector plays a crucial role as an engine of creativity, innovation and community building in Brussels. It undeniably contributes to the city's international appeal and economic development. Culture is ideal for communicating across language borders, stimulating encounters and promoting social cohesion. The fact that the cultural sector in Brussels is committed to setting up multilingual projects is a special asset."
All the projects will be presented in detail during the fourth Multilingualism Day on 23 September 2023 at the Brussels Parliament, which will be entirely dedicated to culture in the Brussels Region.
The following projects are eligible this year:
Minibus Music vzw: 'Songs of Insurrection-Ode to Frederic Rzewski' (17.000 euros)
Frederic Rzewski (1938-2021) was an American-Polish-Belgian pianist and composer who lived in Brussels for many years. He left an impressive oeuvre, including the 'Songs of Insurrection', based on resistance songs from all over the world. This project aims to highlight this composer's work with a concert. Also on the playlist is 'Ode to the Deserter', a four-part choral work in seven languages for amateur choir and professional singers. His works will be performed by French-speaking, Dutch-speaking and international musicians, Brussels conservatory students and amateur singers. A poem will also be performed in as many as 20 languages. Minibus is a small non-profit organisation that likes to set up projects with a social added value and encourages the distribution of classical music to a wide audience. The performance will take place at the Brussels Conservatory.
Community centre Pianofabriek asbl: 'System_D festival'
(25.000 euros)
'System_D' is a multilingual biennial film and photo festival for emerging, idiosyncratic Brussels artists with no real training. After the 2010 youth riots in Sint-Gillis, the Pianofabriek started talking to the young people in the neighbourhood concerned with the idea of making a film about their story. It turned out that the young people were already making films. From that, the Citylab Pianofabriek was born to organise a festival with the submitted films. The festivals were sold out each time. Once again, young people are encouraged to submit films. These will also be viewable online. KVS is co-producer of the festival and offers its facilities to show the films. It is also collaborating with other community centres.
ANAGRAM ASBL: 'Memwa kreyòl : des Cultures et des Maux'
(25.000 euros) ​
The non-profit association Anagram focuses on contemporary artistic productions that lie between art and ecology. Its projects bear a clear ecological, sustainable and social stamp. 'Memwa kreyòl' revolves around the transmission through language of botanical knowledge in the Caribbean. The project consists of recording testimonies, disseminating information on Creole languages through poems and songs, initiation lessons on the Creole language, on medicinal herbs, an exhibition with Creole and Belgian artists, performances by Creole artists, lectures... For the project, there are collaborations with, among others, the Botanical Garden of Meise, the Kaaitheater and Bozar.
Femma vzw: 'Songs and rhythms from elsewhere, here and now'
(6.090 euros)
Femma Quartier, satellite of organisation Femma vzw in Sint-Joost-ten-Node will start the project 'Songs and rhythms from elsewhere, here and now' in September 2023 to September 2024. This will be a participatory and artistic project in which women delve into the rich repertoire of traditional songs and music they have brought with them from elsewhere (often the homeland, or country of origin). Together, women explore the origin of the songs, delve into their meaning and learn to sing them together and accompany themselves musically in a simple way on rhythmic instruments. The meetings are organised at community centre Ten Noey, the Bib Joske and Cantine Josée, and the many folk kitchens. Besides the 18 workshops, three meet-up events will also be organized.
Banquet Production ASBL: 'Festival Something Beautiful' ​
(15.355 euros)
The multidisciplinary festival 'Something Beautiful' promotes poetry and will be organised in La Vallée (Sint-Jans-Molenbeek) from 20 to 29 October 2023. The project itself includes collective exhibitions, workshops, tours, performances, poetry readings... . The aim is to connect people from different language communities. One of the project's partners is 'Singing Molenbeek', a children's choir from the non-profit association 'Chanter pour vivre ensemble' that sings songs in different languages. The project aims to reach not only the population of Molenbeek, but also all Brussels residents interested in art and poetry.
Centre Culturel Bruegel: 'Dia de Muertos dans les Marolles'
(18.305 euros)
The festival 'Dia de Muertos dans les Marolles' has been going strong for 5 years already in the well-known Marolles-area of Brussels. Now the organiser, the Centre Culturel Bruegel, wants to use multilingual communication to make the event even more welcoming and open to several other languages and cultures. The festival is the result of a unique collaboration between a collective of artists, local residents and the general public. With creative workshops, concerts, an exhibition (in collaboration with schools) and a big torchlight procession, the aim of this project will be achieved: forging links between the different cultures in Brussels. The crowd puller will be 'The Great Altar of the Dead' ('Le Grand Autel des Morts'), a construction on the forecourt of CC Bruegel, designed so that everyone can leave something there for a month in memory of a dear departed person, a photo, a flower, a candle, ... .
Veduta VZW: 'Nomadic jardin aux flowers' ​
(13.500 euros)
Veduta ASBL has organised numerous events in art and music in the past. Its project in May 2024 has the Brussels Flower Court neighbourhood as its setting. Nomadic brings artists, musicians and cultural centres into contact with local residents and social organisations with the common aim of organising an accessible and participatory festival. There is an art expo, happenings, concert evenings and open-air theatre. The emphasis is on emphasising the multilingual character of local communities in Brussels. There will be collaboration with the neighbourhood shop, the sandwich shop, a pizzeria, the art gallery, the Erasmus college, the homeless association.... . 'Nomadic jardin aux bloemen' will be a truly multilingual neighbourhood festival.
Vlaams Huis voor Amateurkunsten in Brussel vzw (Zinnema): 'Capital Z'
(25.000 euros)
'Zinnema' and 'La Maison des Cultures et de la Cohésion sociale (MCCS)' together put their backs into project 'Capital Z' as a multilingual, participative and professionally framed performing arts project for and by young people (15 to 19 years old) from Brussels. Young people are coached before and behind the scenes by art education experts from different artistic fields, get to know other young people from other schools in the West Brussels areas and put a professionally finished result on stage as a school and family performance. Part of the activities will take place at 'La Maison des Cultures et de Cohésion Sociale de Molenbeek-Saint-Jean'.
VROOM: 'Drawing Fiesta'
(8.423 euros)
'Drawing Fiesta' is a five-part series of multilingual creative workshops for Brussels residents interested in the cartoon as an art form or other forms of visual storytelling. Each workshop is led by two illustrators, cartoonists or visual artists, each speaking a different language. Together, they prepare an exercise resulting from the meeting of these two languages. During a three-hour workshop, participants are invited to play at the intersection of the two languages. A total of 10 languages will be covered in five workshops. The organiser of the project, VROOM, is experimenting around visual storytelling and drawing in the heart of Cureghem at the Midi Station.
Théâtre Les Tanneurs: 'Parti en fumée'
(25.000 euros)
'Parti en fumée' is a puppet theatre piece created by and featuring stage performer Othmane Moumen. His father was diagnosed with terminal lung cancer six years ago. Despite this diagnosis, he continued to smoke cigarette after cigarette. In a conversation with his father (as a puppet), Othmane asks him questions about smoking, about migration, his coping with an uprooted existence and the future of his children. Moumen began his career at the Théatre du Parc, starring in the Dardenne brothers' film 'Le jeune Ahmed' that won him a 2019 Magritte. Today, Moumen is working for the Théatre Les Tanneurs. The play will be performed six times at different venues in Brussels.
Ebullition ASBL: 'Improvyglot'
(8.800 euros) ​
The non-profit association Ebullition organises 12 improvisation workshops in the field of theatre arts. These involve four languages: Dutch, French, English and Spanish. The aim is to mix these four languages during the lessons. The result of this mutual linguistic fertilisation will be seen in an end-of-year show. And all under the direction of theatre improvisation artists Lauri Andrieu and Dan Gelbard.
Halfmoon ASBL: 'Chaabi Habibi vs Chaabi Mon Amour'
(12.527 euros)
This project pays tribute to traditional 'chaabi' or popular songs, as preserved and transmitted by the women of the Moroccan diaspora in Belgium. In three singing workshops, these songs will be performed by women of Moroccan origin in front of a large audience. The texts of the songs will be translated into Dutch and French during the workshops. The content is discussed in order to discover its origin and meaning.
Peter Dejaegher Woordvoerder / porte-parole a.i.